Xi MTower X2 AGE-SLI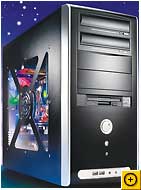 If the designers of this powerful gaming and graphics-oriented PC were looking for speed, they made all the right decisions. The 2.4-GHz Athlon 64 X2 4800+ CPU, 2GB of DDR400 RAM, two RAID 0-striped 300GB hard drives, and single EVGA E-GeForce 6800 Ultra graphics card delivered a WorldBench 5 score of 130, the highest score we've recorded to date.
Better yet, the system posted the top frame-rate score in our standard graphics tests, outperforming two machines in this review that were equipped with dual SLI graphics cards. (The MTower was helped in part by its 2GB of RAM.) Best of all, this MTower also had top scores on some parts of our advanced graphics test, which better measures the capabilities of dual SLI graphics cards. And because it has an SLI motherboard, you can add a second graphics card when you're ready.
Power users will appreciate the MTower's expandability. There's room for two more hard drives and three more optical drives. Adding RAM to the two open slots or a PCI Express expansion card to any of the three open x1 slots is no problem; the case's interior is well organized and uncluttered.
The system has all the connectivity you'd expect of a top-notch PC: Two of the eight USB ports are placed on the front of the case along with a microphone and line-out connector, and two gigabit ethernet ports and two FireWire ports are on the back.